Share Your Baby Food Photographs…
Receive a FREE Baby Food Recipes E-Book
---
A picture says a thousand words – so we're inviting YOU to send in baby food photographs prepared using recipes from OUR site – and to share your culinary creations with the world!
EVERYONE who sends in a baby food photograph will receive a copy of our e-book 'The Homemade
Baby Food Recipes Collection'
(containing 50 yummy recipes for baby's first year) ABSOLUTELY FREE!
To receive your free e-book…
Take a photograph of ANY dish that you've prepared for your baby using a recipe you
found on our site. We're not asking for a professional shot – but please make sure that the photograph is
as close-up, well lit and clear as possible!
Use the form below to send in your photograph. Don't forget to include the title
of the recipe (as it appears on our site) and your e-mail address (so we can send you your e-book).
The photograph you send in must be your own property – PLEASE do not send in
photographs that you have found elsewhere.
By submitting your photograph, you agree that we may publish it on our site. You will
be credited for any work published, although we will only use your first name and country of location –
NO other identifying information will be used.
PLEASE NOTE: If YOU experience any problems in sending in your photograph or using the entry form, please
contact us immediately
and let us know. Your contribution is important to us.
We look forward to receiving your baby food photographs!
Send in your photograph now….
Send In Your Baby Food Photographs
Show off your baby food creations to the world!
Oops! We could not locate your form.
What Other Visitors Have Said…
Avocado Baby Food Recipes – First Foods
by Beth
(Oregon, USA)
Avocado was his 2nd food, after brown rice cereal. He absolutely LOVES IT!
First Avocado Baby Food – No-Cook Fruity Treat
by Andy
(Avon Lake, Ohio, USA)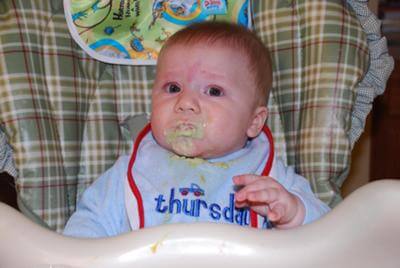 Ethan versus the 'Cado
This is a picture of Ethan's first meal of the Avocado-Banana mix. He actually loves avocado dishes now.
Pureed Baby Foods – Squash
by Vanessa Heath
(Waverly Hall, GA, US)
I can't wait to get my hands on that!
This was the first time we tried boiling squash, carrots, and pears, and freezing them in ice cube trays. I sat Ellie up on the counter so she could see what "we" were doing. We "talked" the whole time I peeled the squash, boiled the veggies, used the hand blender, and poured it up into the trays and it was a wonderful Saturday morning we spent together. Later I take out one cube (1/2 ounce each) and thaw it in a bowl that is sitting in a bowl of hot water. I can take out one cube each and in ten minutes she has a whole meal of organic food with no preservatives – two veggies and a a fruit — TOO EASY!
Wholesome Rice Cereal My daughter Shelby absolutely LOVES this recipe and I love it too! it is so easy to prepare and very economical!